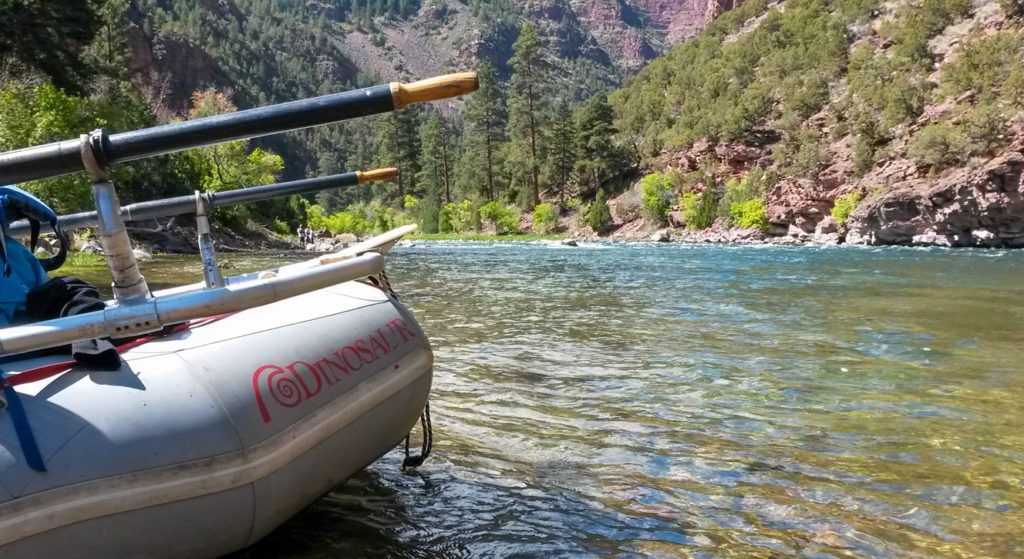 Many of these trips began near Green River, Wyoming floating through the canyons of Flaming Gorge through Brown's Park, Colorado eventually ending near Jensen, Utah at the Split Mountain boat ramp in Dinosaur National Monument. As the popularity increased so did the options that the local river outfitters offered to folks seeking a river rafting trip. For people with a limited time frame or limited budget a one day river rafting trip is a great option. Our one day white water river rafting trip begins at the base of the Flaming Gorge Dam and takes a seven mile course down the Green River to our take out point Little Hole.
Construction of Flaming Gorge Dam, as part of the Colorado River Storage Project, began in June 1958 with the last bucket of concrete placed on November 15, 1962. The 502 foot-high thin-arch concrete dam is located on the Green River in northeastern Utah about 32 miles downstream from the Utah-Wyoming border. Flaming Gorge Dam is one of the four units of the CRSP, which provides vital water storage and hydropower generation as well as many recreation benefits.
On December 10, 1962, the waters of the Green River began filling the reservoir behind Flaming Gorge Dam and nearly a year later on September 27, 1963, President John F. Kennedy initiated the first power generation at Flaming Gorge power plant. The dam was dedicated on August 17, 1964, by former First Lady, Claudia "Lady Bird" Johnson.
With the construction of this dam and the crystal clear water that flows out of it down the Green River, a prime recreation area has been developed. The dam provides a constant flow of water each summer for rafting and fishing bringing travelers from all over the world to see this incredible landscape.
This section of river has great class 2 rapids, incredible scenery, crystal clear water and abundant wildlife. We are the only locally owned and operated outfitter in Vernal, Utah offering trips since 1979. The other outfitters are based in areas far away from the region. Why go rafting with the big corporations when you can go with the local expert? I know who I choose when traveling, the local expert. The Green River below Flaming Gorge Dam is most often called Section A or Red Canyon. It is a 7 mile float with beautiful scenery and interspersed with fun rapids throughout the day. The most popular rapids are Mother In Law, Bridge Rapid and Dripping Springs. The other rapids are just as fun and offer something for everyone. The river is world renowned for it's blue ribbon trout fishing. There are approximately 1000 trout per mile. It is great for the kids, they can watch over the edge of the raft and see fish as you raft down the river. We offer a fantastic deli lunch mid day. Typically on a beautiful sandy beach where you can take a swim or do a little sun bathing. There are a lot of wildlife viewing options. Mule deer, bighorn sheep, occasionally moose or elk can be seen on the drive to the river and along the river banks. A lot of birds can be seen, osprey, bald eagles, and a wide variety of ducks.
If you are looking for a family, group or solo adventure give a single day river rafting trip on the Green River below Flaming Gorge Dam a try this summer. Dates fill up quickly so you will want to reserve your space in advance. Give us a call we will be happy to help you plan out the best one day raft trip in Utah.
Book your next adventure today!