White Water River Rafting the Green River Gates of Lodore Dinosaur National Monument
Beginning in Brown's Park, Colorado the Green River Gates of Lodore river rafting adventure takes its travelers on a 44 mile journey through the center of Dinosaur National Monument. This white water river rafting trip is a favorite among veteran river rafters and novices alike. The Green River has a consistent water flow year around, great rapids, beautiful camps a little bit of something for everyone along its way.
Flaming Gorge Dam located up river from the put in point to the Gates of Lodore trip provides a constant water source for this desert river. Because of this constant water supply the Green River is a great rafting trip all summer long. Whether you choose to take this trip in June or August it will be fabulous. The Green River Gates of Lodore has a sister river in Dinosaur National Monument the Yampa River. The Yampa River is one of the last free flowing rivers in the Colorado river system. With its free flowing nature the Yampa River has a limited time frame where it is navigable. The Yampa River has its best rafting Mid May through Mid June during the time of the snow melt from the Colorado Rockies.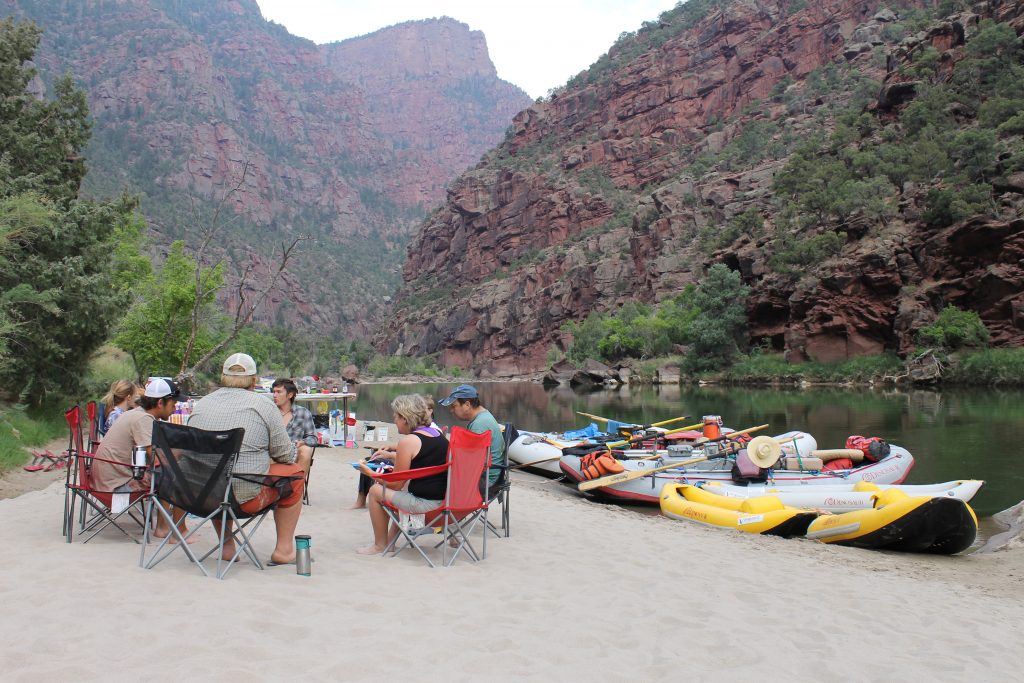 Our Green River Gates of Lodore trip begins in Vernal, Utah. We have a pre trip orientation the evening before your trips departure. This orientation gives your group a chance to meet the guides, get your dry bags for the trip and answer any last minute questions. The following morning the bags are loaded and we drive you from Vernal to Brown's Park where you will meet the guides and begin the river adventure.
At the put in point the crew will direct you on how to most safely travel on a white water rafting trip. Fit you with a PFD or personal flotation device. Help guide each guest on the different white water craft that will be on the trip and give you a short overview of some of the back country travel concepts you will follow on this journey. This orientation takes about 30 to 40 minutes in length depending on your groups size. Once you are loaded on the rafts the journey truly begins. You are free of cell phones, traffic and work getting to relax enjoying some of the most incredible scenery in the state of Colorado and Utah.
As you enter the canyon of Lodore you will experience your first rapid Winnie's a fun class two rapid with a little excitement to it. The rapids on the Gates of Lodore trip range from Class two to occasionally class four (depending on water levels). On this section of river the rapid classification is based on Class one being calm water to class six being unrunable white water. The most famous rapid on this trip is Hell's Half Mile a class 3 or class 4 rapid which has been ranked as one of the 10 most famous rapids in North America. Do not let the classification scare you the guides on our trips are very experienced and take every precaution to navigate the white water rapids as safely as possible. The river is a wild place and things can happen that are out of anyone's control.
The white water is one of the trips highlights but not the only thing that makes it special. The camping and hiking is also phenomenal. Each camp has great swimming, beautiful tent sites and the scenery never stops taking your breath away. At each evenings camp the guides will set up the main camp equipment while you take care of your tent and sleeping gear. Early evening the guides will astound you with a dutch oven dinner and all the extra's. A typical dinner would begin with appetizers followed by an amazing meal prepared by your guide staff. You will even be surprised by their baking skills when they serve up the evenings desert cooked in a dutch oven under the coals. In the morning the smell of freshly brewed coffee will fill the air. A hearty breakfast will begin your day followed by breaking down camp and preparing the rafts for that days river adventure.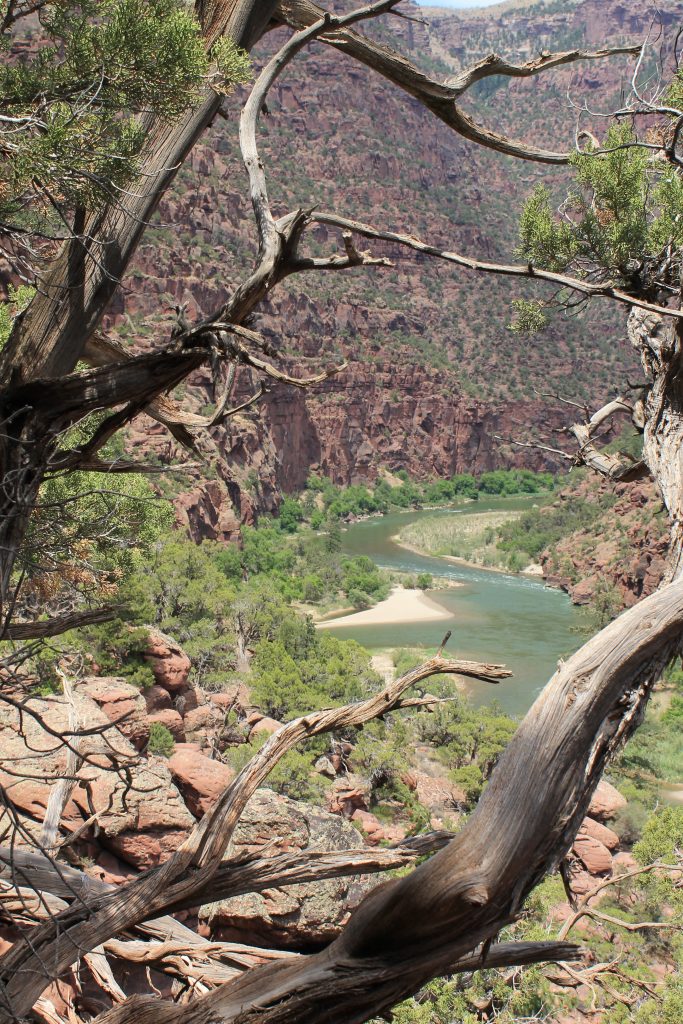 We have talked about camp and rapids but what about hiking? Dinosaur National Monument has some of the most incredible hiking opportunities of any of the National Parks. Your guides based on group interests, weather and assigned camps will lead you on some incredible hikes throughout the trip. A couple of the hikes that are most popular are Jones Hole Creek. This hike can be a 5 mile round trip hike where you will see some fantastic Native American rock art, waterfalls and wildlife. All the while you will be following Jones Creek a beautiful spring fed creek, crystal clear and teaming with trout. In Echo Park your guides will lead you to Whispering Cave (do not forget your headlamp) and to another fine rock art site. Winnie's Grotto is a short hike with spectacular scenery, this hike is typically a first day lunch stop.
No matter what your interests in the outdoors are a Green River Gates of Lodore trip with Dinosaur River Expeditions will be a trip of a lifetime. This trip fills up quickly and space can be limited so call or email today we will be happy to help you with any of your needs.