YAMPA RIVER
Yampa River Whitewater Rafting
The last undammed tributary of the Colorado River System, the free-flowing Yampa River is a gem. Beginning in Deer Lodge Colorado, our Yampa River whitewater rafting trips take you for an amazing 72-mile journey. Along the way, you'll experience astounding sandstone cliffs, thrilling Colorado whitewater, incredible campsites, and so much more.
Your Yampa River trip with Dinosaur River Expeditions includes fun rafting and inflatable kayaking through spectacular whitewater. Our guides will lead hikes to some of the finest ancient Native American sites in Dinosaur National Monument, where you'll see 700-year-old petroglyphs, early pioneer sites, and the most amazing vistas of western canyons found anywhere.
Camping along the shore of Colorado's Yampa River is unbelievable — the views alone will leave you speechless. Your rafting trip guides will prepare remarkable meals — they'll leave no appetite unsatisfied. Dutch ovens will steam with fresh, nutritious, dining such as homemade Peach Cobbler and delicious Lasagna.
The views and food are not the only thing that make time in camp special — your adventure guides specialize in camp entertainment. They may surprise you with an impromptu skit, a fun rafting-trip game, or great stories of river trips from the past. Book your greatest whitewater rafting adventure vacation today with Dinosaur River Expeditions — it will be unforgettable.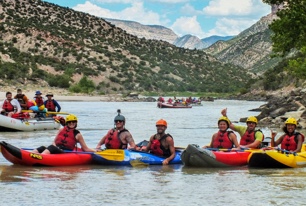 "As someone who's been on dozens of river trips across several states, I think the real value that Dinosaur River Expeditions' guides add is their unique knowledge, competence and commitment. Their enthusiasm and personal attention is unique. They're great stewards of the river and its history, and I certainly am unwilling to go with anyone else."